Just been on holiday to Krakow (no judgement please!). I like to buy a ring every time I go abroad (usually a cheap silver one, but occasionally go for something pricier) as a souvenir (much like people collect fridge magnets).
Anyway, on this holiday I fell in love with this really delicate gold bracelet. It was locally designed and made (always a must for my souvenir jewellery lol), and featured marquise shapes, and my engagement ring will be a marquise. So I bought it, plus 3 silver rings from the same designer.
Here's a pic of the bracelet, along with a silver band, and cheapy 0.25ct diamond solitaire.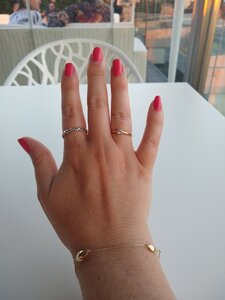 Just wanted to share!