I recently celebrated my 30th wedding anniversary and became a grandmother!
PS members helped me 5 years ago with my diamond upgrade (
WF
2.ct) and I was happy with my center stone but not the setting which was purchased locally and is a Christopher disign.
Because of my large ring size I have always regretted not being able to swing the 3ct center.
I was hoping to get some help with an idea I have to make my Round 2ct stone look larger on my hand. I had an unsuccessful day in the city yesterday in this effort. The remount I found that worked was a halo style ring. It was a rounded square halo with diamonds down the side.
Yes the center stone looked larger but it still didn't seem like enough. The ring was dull to say the least.
I am thinking about purchasing a 5 stone ring with large enough stones for an 8.25 ring size. I would wear this on my right hand.
Then hopefully I could remount my 2ct in a halo setting but I don't really know enough about this type of setting.
I think that is I will need at least .50 stones for the 5 stone ring. I want the ring to stand out but not look fake. I'd like to save money but I'd really like the ring to stand out.
I've attached an image of my round 2ct and my DD's engagement/wedding band to show how dwarfed my ring looks on my hand.
It's really bothering me. DD spent a fraction of what I spent and people stop her to admire her ring. I myself am thrilled she and her husband did so well with their purchase in the diamond district.
With all that said, I have a few questions.
Who makes a sparkly Harry Winston style halo ring for my 2ct at an affordable price point?
What size and quality of diamonds should I be seeking if I want a very blingy 5 stone for an 8.25 ring?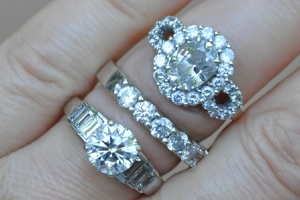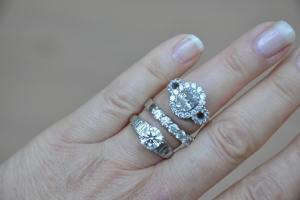 Thanks,
Mrs T