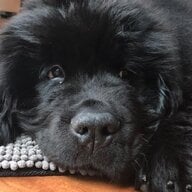 Joined

Jul 27, 2007
Messages

6,299
Date:

2/22/2009 12:34:44 PM

Author:

lyra

I totally want to squish him and kiss him!!!

When do you start showing him, 6 months? I can't remember. We used to show dogs too, but haven't done it in 12 years now. Was so much fun too. Gorgeous puppy!!
Our regional newf club is having two conformation events in March and I was thinking of putting him in the 3 - 6 month category, but it might be too soon. I prefer to start with the regional club because it's so much more laid back, but I'm not going to start conformation/handling classes until his puppy kindergarten class is over and that's a 6 week course starting this Thursday. I don't mind waiting until April/May when he's 4 - 5 months old. Two of his brothers are showing next month, so I'm interested to see how they do in the 3 - 6 month category--both of their structures are slightly better than Boatswain, but it's really too early to tell. If you miss handling and want to show a pup in New England, I'm your girl
He's not even old enough to have to worry about grooming!