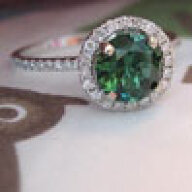 Joined

May 17, 2009
Messages

1,183
First the stats:
Shape: Round Brilliant
Measurements: 6.45 - 6.49 x 4.00 mm
Carat Weight: 1.03 carats
Color Grade: H
Clarity Grade: SI1
Cut Grade: Excellent
Polish: Excellent
Symmetry: Excellent
Florescence: Strong Blue
The rings are 1.5mm each, size 6.5.
The Upgrade:
My original set was a three stone, Princess, trellis from The Shane Co with the center stone of .73 cts. I was always in love with Princess cut stones, but somewhere over the last few years (probably thanks to PS) I fell in love with rounds. I know there isn't a lot of love for chain stores on PS, which I understand, but the only way we had the budget to do an upgrade was to take advantage of Shane Co's upgrade policy. At first I was hesitant about trading in my stones knowing that I would get 2006 pricing as a credit, but after looking over the current inventory on their website the prices were nearly identical to what we purchased my original stones for. Next, I spent weeks trolling their online inventory for diamonds that would meet my standards. This was the hardest part of the entire process. After throwing out all diamonds without GIA or AGS certs the pool wasn't very big. I spent many days looking over certs and running HCA's on any diamond that met my criteria. In the end I only found three diamonds; one was sold while I was still looking, one was an SI2 that I wasn't so sure about, and the third was the stone I bought. Things did get a little tricky with my upgrade. Shane Co will send a stone from their online inventory to one of their stores for a refundable 20% fee. I'm okay with that, but we called twice to inquire about my stone and both times were told that their computers were showing it unavailable. I got a little annoyed about that since as you can see by my search results, good stones were few and far between! I didn't want to miss out on seeing this stone in person. So we did the only other thing we could, we bought the stone from the website knowing we could return it to the store if it wasn't right. Luckily that didn't happen! (Though I will say having the loose stone in my possession, at full price, was very nerve racking! I just kept thinking, "What if I lose it, what if I chip it, what if, what if!") One thing I noticed after looking over many, many stones on the Shane Co website is that their pricing doesn't take cut, polish, or symmetry into account at all. I would look at stones with exactly the same stats with exactly the same prices, but when I'd pull the certs on both they would be wildly different on cut (like poor and excellent). So that actually played to my advantage.
.