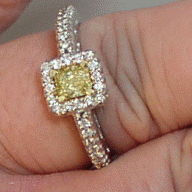 Joined

Mar 9, 2009
Messages

53
Hi everyone,
Thanks again to everyone who helped me out with the first post I made the other week. Now I am nervously awaiting shipment of my rings from
James Allen
. We ordered the diamond and the engagement ring setting, and both wedding bands from
James Allen
. The order for the diamond and engagement ring setting is under my fiance''s name. The order for the wedding bands is under my name. We got the emails saying the expected ship date for the completed engagement ring and the wedding bands were today, March 17.
Well, we''ve received the FedEx tracking info for the wedding bands, but nothing for the engagement ring. This worried us because we need to plan to stay home from work to sign for the deliveries. I ended up calling twice to customer service, first speaking to Darrin then to Josh. There was a certain amount of confusion with the first call about which order I was calling about - the call ended with the statement that both orders were supposed to ship today. I still felt uneasy because that''s not the same as a definite, both orders ARE shipping today.
I called back and some time was spent on hold while Josh checked on the order status. He came back to tell me that I was in luck, it was St. Patrick''s day, the shipping dept was slammed, and they just hadn''t entered the FedEx label info yet. But the order was shipping.
Well, it''s after hours and there''s still no change in the order status page nor an email confirmation that the engagement ring will be shipping today. So I don''t expect to see it.
I tried to explain to both Darrin and Josh, that it wasn''t that I minded if the shipments slipped a couple of days, I just needed them to come on the same day. That it was hard to take time off from work on separate days to sign for the deliveries. I was really bothered by the lack of response to that. Maybe it''s unusual that someone would have difficulty taking multiple days off to wait to sign for deliveries.
And of course, I''d much rather get the engagement ring than the bands if only one order got shipped!

I don''t hold out much hope that both orders really did ship and it bums me out that they would say both were shipping. I''m not real clear on what the impact of St Patrick''s day is either, other than maybe that''s a jeweler''s holiday?
So my long-winded story leads up to me being even more nervous now about what the quality of the final product will be like. Have I made a big mistake buying from
James Allen
?