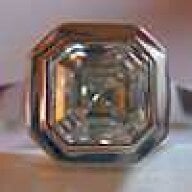 Joined

Mar 2, 2004
Messages

10,100
So some of you guys may remember my thread about my friend''s engagement ring I was trying to sell for him.
https://www.pricescope.com/community/threads/friends-3-stone-modified-radiant-ring.88878/

So, here''s how that whole story ended. My friend wanted a certain amount for it, and without a GIA cert, I told him it would be impossible to get. My sister, who is getting married in June (and met her fiance at my wedding) tried it on, and decided she liked it, and because they''re on really limited funds, her fiance offered his motorcycle to my friend, and the deal was done!
I''m going to buy their wedding bands as my gift to them, so, my question to you ladies is - what kind of wedding band would you like with this setting? The ring I''m wearing in the pics of it is my 2 mm pipe cut band - I think it needs at least 3 mm to look substantial enough with this setting, but the pipe cut is in last place right now.
I have a few choices, but she''s totally open to options under around $300 or so!

Wedding band options:
Option 1: 2.5mm 14K White Gold Heavy Wedding Band, Domed and Comfort-fit
http://www.e-weddingbands.com/store/product89715.html
Option 2: 3mm 14K White Gold Heavy Wedding Band, Domed and Comfort-fit
http://www.e-weddingbands.com/store/product89717.html
Option 3: 3mm 14K White Gold Wedding Band, Milgrain Edges and Comfort-fit
http://www.e-weddingbands.com/store/product89690.html
Option 4: 3mm 14K White Gold Wedding Band, Flat and Comfort-fit
http://www.e-weddingbands.com/store/product89707.html
\