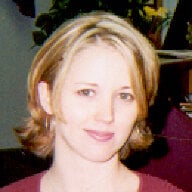 Joined

Feb 23, 2003
Messages

424
Hello.
This is my first time to this site and I have to say - WHAT A RELIEF! I am so researched-out and yet I can't stop reading these posts!

OK - on to my problem/request.
I have a diamond engagement ring I am looking to sell or trade for a single larger loose diamond. The ring was only worn 4 months, (unfortunately for me) - and is in excellent condition! (I think I cleaned it everyday, haha!)
Anyone out there know anyone who would want this or how I can do this? (Sorry that the picture isn't much greater, I don't have a digital camera)
Here are the basic stats:
14k White gold, 4 prong, Round Brilliant cut .80ct ladies ring, w/ 6 round brilliant side stones, (3 on each side) .21ct tw side stones.
More info on Center Stone:
AGS Certified (can give the Cert # later)
5.95 X 6.00 X 3.67 mm
Cut Grade: AGS Ideal 0
Polish: AGS IDeal
Symmetry: AGS Ideal
Proportions: AGS Ideal
Color: AGS 2.5 - I
Clarity: AGS 3 - VS1
Carat Weight: 0.800 cts.
Fluorescence: Faint
Side Stones:
6 Round Brilliant .21 ct tw, Fine Quality
The Appraiser from Boston who made the ring had it appraised at: $4950.00
I am looking to sell this ring for the fair value amount - OR trade it in for someone who sells loose diamonds that are Certified.
I am looking for approximately 1.00-1.25 with an Ideal Cut all around and Nothing less than VS2, I Color.
CAN ANYONE HELP ME?? I can't stand having this ring anymore - just cause of the guy who gave it to me, that's all. It was purchased from a reputable Jeweler in the Boston Jewelry District. I have ALL the papers on it. I just don't want to sell it back to him cause he was a family friend of my ex, and I don't want conflicts.
THANKS!