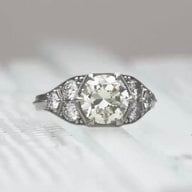 Joined

Jul 27, 2005
Messages

1,119
I am like Al Gore- I just love to recycle!
Since I had a family stone put into a solitaire pendant I have now turned my beady little eyes onto the stone that is my 18K YG solitaire necklace, (19th b-day gift.) I had the jeweler who did the setting for my pendant size-up the stone for me and he estimated it was 0.35 ct and pronounced it a "nice stone."
I know the stone I have is most likely nowhere near an ideal cut- but it will have to work for now and I don''t think it will be tough to find a match for it after I get it more thoroughly evaluated.
I am thinking I would like some settings that will dress them up a bit and give the earrings some more size and more oomph.
I know bezels give the earrings more size, but they are are so modern looking and my pendant and rings aren''t modern- also for some reason plain bezels seem casual to me.
Has anyone ever seen any of the following:
1) bezel set earrings where the bezels are milgrained?
2) studs with small halos around them?
I have done a lot of searches and haven''t found much-
I don''t want the earrings to be too matchy-matchy to my pendant, but I really don''t care about them being too dressy or flashy as I do have more casual earrings (v. small yg bezel set studs that aren''t great quality, pearls, etc.)
All I have been able to find halo-wise are jackets like these: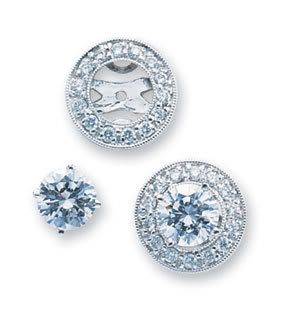 Any ideas/opinions are GREATLY appreciated!