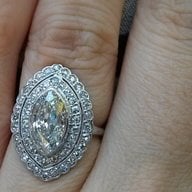 Joined

Jun 13, 2005
Messages

1,046
Hi fellow antique jewelry lovers,
I am on a quest for my dream upgrade stone.
Here is one I am looking at very seriously. I have it on hold with Old World Diamonds. (BTW, Adam has been providing excellent service and communication.) He knows I am posting here for stone feedback.
The pic/listing is here:
http://www.oldworlddiamonds.com/inv_details.php?ID=2032&SHAPE=EU&PAGE=46
A video is here:
http://www.youtube.com/user/OldWorldDiamonds#p/u/3/V4pRsFWb1RI
I also have the EGL cert:
****************************************************
EGL USA
Weight: 3.71
Shape and cut: Old European
Measurements: 9.93 x 9.73 x 6.22 mm
Depth: 63.3
Table: 47
Crown: 17.8
Pavilion: 41.7
Girdle: Very thin to Sl thick
Culet: Medium
Polish: Good
Symmetry: Good
Clarity grade: VS2
Color grade: K
Flourescence: None
Comments: None
****************************************************
So, does anything jump out immediately? To me the cut looks pretty, although I do see some black inclusions (mainly in the video). Do we feel they are serious?
Also, how does the price seem?
Lastly, as far as I know, there are no definitive measurements for calculating an OEC's beauty... the closest thing I could find was Dave Atlas's article here:
https://www.pricescope.com/journal/screening_chart_old_european_cut_diamonds/
If I'm reading his table right, this stone seems to come out pretty well. Am I wrong?
Anything else I should be noticing/considering?
Thank you in advance so much for any feedback or advice!
Anne