Joined

Feb 15, 2016
Messages

3
Hi all, I am preparing to propose to my wonderful girlfriend. I have been looking at rings and have a good idea of what she wants, however I am struggling to narrow down how I should go about getting this ring. Here is what we are looking for.
My keyword is bright. I am the detail orieted one. She is not super picky and will love anything that is very bright and white and shiny.
Budget :
Looking to stay at/under $5,000. If I can find something perfect I am willing to go over a little.
Diamond :
Oval
Shape:
She does not like round stones or anything close so I would be looking close to or over 1.4 ratio
Carat:
I would love to get her a diamond over 1 ct. I realize this is unlikely.
Color:
She is not particularly sensitive to color within the white diamonds but she hates colored diamonds. I would like as colorless as possible because of this. I have been searching H at the lowest but am open to suggestions.
Clarity:
Eye clean is all I'm concerned about here.
Other:
As high as possible/what you recommend for cut, etc. While she doesn't seem to notice, bowties drive me crazy and I couldn't live with myself if I were to get one.
Setting :
She can be careless, even with expensive things(we are working on it,though I think she might take better care of this
) so I would really like to have the setting done in platinum to keep it from wearing down quickly. She wants a thin band with pave stones for sure. The diamond setting can vary. She likes halos as long at they are set up high next to the stone and not down below. While a halo would be my first choice, she also likes solitaire settings. I am very willing to look at a solitaire settings if I can find a diamond that can stand alone and cover her finger decently. She is somewhere between a size 6.5 and 7.
This is the ring she tried on at the store and loved. This setting was nearly $2,800 dollars for white gold. Surely I can do better than that?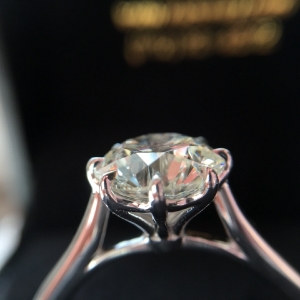 I particularly like this ring from Brilliantly Engaged:
http://www.brilliantlyengaged.com/emily-micro-pave-halo-engagement-ring-bpid-239-19.html
She does not want to see any metal on the halo, just the diamonds. She also like the cathedral style on the band for the halo. This ring fits this description perfectly and I think is beautiful.
Would they be able to set this with an oval? Would it be doable within my budget? I have not contacted them for a quote because I was unsure they would be within budget.
Some of the settings at
James allen
are definitely within my budget, however I do not like them nearly as much because I feel like the pave is surrounded by too much metal. Please offer up some suggestions as to where the best setting for my budget would be available.
Other Concerns :
I have looked at diamonds from various websites. While I feel fairly comfortable understanding the differences between them, I am not the best at understanding what to give up and what to spend for. Additionally, I haven't been able to set my diamond budget because I still need help on the setting choice. I am looking for all the help I can get and I'm open to any thoughts. Remember she is not too picky and will not scrutinize every last detail but the things I mentioned in this post are requests from her. Bright and shiny is what we are mostly looking for.
Thank you all for your time and consideration. I am really looking forward to the help and knowledge you all can bring to the table.