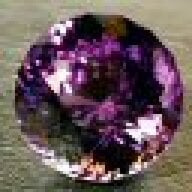 Joined

Dec 27, 2006
Messages

12
Hello everyone! I am finally de-lurking after many months of admiring everyone's new jewels!
I have had my current wedding set for an astonishing seven years! My old motto used to be "trade in, trade up, and trade often!" and I have had many, many settings! Anyway, I am ready for womething new, but do not know where to start design-wise. I do know that I would like platinum. I have a friend who is a diamond broker in LA and can have anything copied or made so I just need to figure out what I want.
I am torn between something contemporary or something with a vintage look. I work in the fashion industry and have seen some very cool contemporary settings, but also appreciate some of the antique-inspired settings. I have toyed with the idea of upgrading to a larger stone. My firend, the diamond broker said the best way to do so would be to sell my diamond on ebay and buy a new stone through her (this really surprised me!). Does anyone have experience with this??
Here are some pics of what I currently have. Apologies in advance for the picture quality, I just can't seem to get the claiity that some of you can!!
The diamond is 2.46 VS2 H color. Currently in a platinum mount with about .54 ct of side stones. I wear it with a 1.25ct antique e-band.
Thanks in advance for all of your ideas! I look forwarding to getting to know you!
Catherine