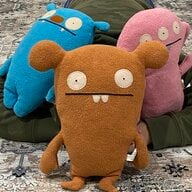 Joined

Oct 24, 2012
Messages

11,421
Hi to any any watch peeps. I could use your input and thoughts about this subject. I have gotten pretty far down the road, but am surprised at how complicated and not straight forward this process is for a relative newbie. For reference, I have a 5.125 inch wrist, and am 5'2. I am set on Rolex for this watch because I have always loved the brand and have emotional ties to it. I also love the cyclops, as I want to be able to see the date clearly and easily. The other brands I love are Jaeger and IWC, but Jaeger does not produce a version with a big enough date. IWC is great, and I will probably get one later, but I want a Rolex first. The Rolex(s) I have are all 26s.
The following are my needs.
1. 31mm - not too big, not too little
2. Date
3. Lume on markers and hands - essentially limits me to stick markers
4. Not too heavy as I would wear it 24/7
5. Easy to read - more space between the markers
Requiring lume and a date limits my options. The following have been my unsuccessful attempts to figure out what I now need.
1. 34 black with date and lume - too heavy for 24/7 wear, and masculine looking
2. 31 black with lume - no date, but perfect weight and very cute and pretty
3. 36 very visible and has date but too big and heavy
4. 31 MOP with date - looked beautiful, perfect size but no lume on hands or markers
5. 31 pink with lume and date - not too heavy but looked small, and not that easy to read
6. 34 pink with lume - size looks great but no date
The logistical challenges of "shopping" for a Rolex:
1. Hard to find pieces to try on at any authorized Rolex dealer because supply is low and demand is high.
2. Hard to order because some jewelry stores won't even take deposits. They will take your wishlist and maybe call you if they happen to receive a piece that you want and if you are next in line.
3. Some ADs (authorized dealers) will take a deposit but still won't be able to guarantee when a piece will be delivered. This is still better than the cross your fingers situation and hope something comes in scenario.
3. So many various combinations that there could be a combination you would not expect to work, but does work, but you would never know because you would never have had a chance to try it out.
4. Different colors in the same size makes the watch look different in size. White bezel and bracelet with white face makes a watch look bigger. A colored face can make it look smaller. But maybe a very dark face will make it look the smallest, and a lighter but not white face will make it look medium. I don't know. Not having a chance to try the various colors is limiting. I wish I was an artist so I can understand the visual impact of color better.
5. Purchasing online from a reliable online vendor (and I can't even get into the effort of finding a trustworthy online vendor) is also a challenge. The more desirable styles are marked up significantly higher than retail. One that I had my eye on, although it didn't even meet all my needs, was marked up by over 2x the retail price.
Anyway, if you've gotten through all my griping and detail, I have placed an order on a 31 mint green with white jubilee bracelet, white fluted bezel with date, and stick markers. No idea when it will come in. I'm in the process of returning a black 34 dome bezel, white bracelet with date. I thought I would love it since I really liked the 31 black dome bezel with white bracelet, but no date. I thought it was a little small so I sized up to a 34 and found one with the date. Little did I expect it would be too big and too heavy.
Ugh. Sorry, maybe I'm just venting. I will post some pics though.
@HollyC
,
@SandyK
,
@Polabowla
, just some people who looked at my comments in the SMTB thread. I wish I had a specific piece that worked out. But I'm happy to show all the ones that didn't work.