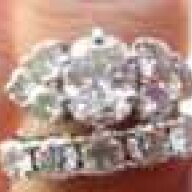 Joined

Sep 20, 2006
Messages

16
Hi everybody, I am a new member but have been checking out everybodies beautiful rings for quite some time now.......maybe that is why I now need your help. I am trying to decide whether I should change my setting not because I hate it, because I dont, but just that it is almost 19 years old and there are beautiful options out there.
My e-ring was custom made 19 years ago and features a 1.29 oval center, I, VVSI, surrounded by three diamonds on each side each weighing .25/each made to look like a trillion on each side. This ring was in 14K yellow gold, but I recently had it dripped, and I love the way it looks now in white gold, but the maintenance is costly. My wedding band is a 5 stone, 1.00 ct, H, VVSI band.
I am looking for suggestions on what to do here. My thoughts are to use the existing stones and making an eternity band and maybe just having a plain tiffany setting, or keeping the band and perhaps just resetting the diamond in a higher head and leaving things alone, or perhaps changing things all together. I am kind of sentimental and thus want to keep all the stones, and a part of me wants to keep almost everything because my husband designed and picked out everything 19 years ago even though he told me to do what I want as far as upgrading the stone, which I am not going to do, or even resetting it......that was very sweet of him, although the one setting that I love is the halo setting, which my hubby hates.
Thanks in advance for your suggestions and comments.