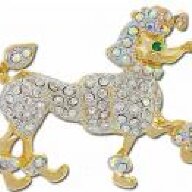 Joined

Jun 13, 2010
Messages

81
I love this setting, and would really love to have my 2.02 oec set into this. I would like it in 18k yellow gold. The problem is that I don't see this available for a round diamond... When I contacted
James Allen
, the SA told me they could only do a round bezel for one of their own diamonds... Argh. It's strange, because they offer this setting for every other shape of diamond, so I don't understand why it can't be done for a round, it makes no sense to me. I'm having a hard time taking no for an answer.
Anyone have any ideas to help me? I have my heart set on getting this setting, but already have a diamond... Is there a
James Allen
representative on this board that can help me make this happen? I would be so grateful. It doesn't seem like it should be too difficult...
Here is the link for an oval
http://www.jamesallen.com/engagement-rings/solitaire/18k-Yellow-Gold-Petite-Solitaire-Diamond-Ring.html