Joined

Feb 8, 2016
Messages

26
I have learned so much from this site, but have so much more to learn. This will be replacing a ring that was lost in an accident months ago. The stone will be used in this setting
http://www.jamesallen.com/engagement-rings/side-stones/14k-white-gold-0.30ct-common-prong-round-shaped-diamond-engagement-ring-item-7096.
.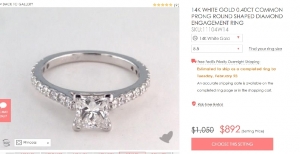 I actually ordered diamond #1 this morning and now realize I was likely too hasty and should have spent more time researching.
I will likely cancel my order depending on what you all think of the diamonds listed below. I am color sensitive (graphic designer) and was concerned that I would notice a yellow tint in diamond #2. Thanks in advance! I would appreciate any thoughts on these stones

Or maybe my two choices are horrible picks and I would love to know that as well if that is the case. My budget for the diamond was $2400.

Diamond #1 $2,370
http://www.jamesallen.com/loose-diamonds/princess-cut/0.74-carat-f-color-vs2-clarity-sku-568976
SHAPE: Princess
CARAT WEIGHT: 0.74
COLOR: F
CLARITY: VS2
POLISH: Very Good
SYMMETRY: Very Good
FLUORESCENCE: None
L/W/D (MM): 5.07*4.92*3.60
L/W RATIO: 1.03
DEPTH %: 73.20
TABLE %: 72.00
CULET: None
CERTIFICATE: GIA
Inclusion: Cloud, Feather
Diamond #2 $2240
http://www.jamesallen.com/loose-diamonds/princess-cut/0.77-carat-i-color-vvs2-clarity-sku-913495
SHAPE: Princess
CARAT WEIGHT: 0.77
COLOR: I
CLARITY: VVS2
POLISH: Excellent
SYMMETRY: Excellent
FLUORESCENCE: None
L/W/D (MM): 4.95*4.94*3.67
L/W RATIO: 1.00
DEPTH %: 74.30
GIRDLE: Thick
TABLE %: 72.00
CULET: None
CERTIFICATE: GIA
CROWN ∠: 0.00
CROWN %: 0.00
PAVILION ∠: 0.00
PAVILION %: 0.00
Inclusion: Pinpoint, Cloud