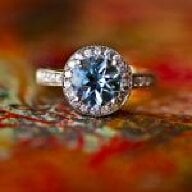 Joined

Jun 21, 2010
Messages

126
Last week, I wired funds to ERD for a lovely 2.07ct cushion that I posted in another thread. I'm currently on vacation, so I had them delay the shipment until I returned. But since it's not in my hands yet, I can't help but continuing to look in the meantime!
And so now, an AVC has caught my eye. I REALLY want to make sure that my BF and I make the best decision possible for the price and I am hoping for some help! I've reserved both of them, but I'd like to make a decision by very early next week so as not to hold up the inventory for the stone/dealer I decline.
The first stone is 2.07ct, I, VS2 ACB from ERD:
http://engagementringsdirect.com/DiamondCushionDetails.aspx?Item=67
-I love the spread and carat weight on this one, as well as the PERFECT square ratio. I haven't seen it yet, so I am a *little* concerned about the warmth. If we chose this one, it would probably be set as a solitaire in a pave band.
The second is 1.67ct, H, VS1 AVC from
GOG
:
http://www.goodoldgold.com/diamond/8209/
-I love the pastel colors that are indicative of an AVC, as well as the better color. I just wish the ratio was a little more square. If we choose this one, I would probably halo it.
I am SURE I would be very happy with either of them, but not being in NYC, it's kind of expensive to have both shipped to an appraiser, then to return one so that I can look at them side by side. I've met with each of them a year ago and would be confident with a purchase from either dealer, so there isn't any concern in that area either. What do you all think?!?