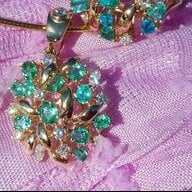 Joined

Jun 30, 2014
Messages

1,579
I have 3 paraiba cabs that I haven't gotten around to setting because I need some inspiration (something you all do so well here, lol). I've decided to work with Yvonne on it as my next project but am really struggling on the setting design so would love your ideas/thoughts:
The stones are small and my fingers are a not (size
....and for me, finger coverage is a must. Hence, I've always thought of setting the larger stone E-W while Yvonne seems to think N-S might look better. On the flip side, I don't want the stones to get lost in the setting because they have such a beautiful glow/color.
The center stone is 6.41x4.37mm. The round side cabs are 3.5mm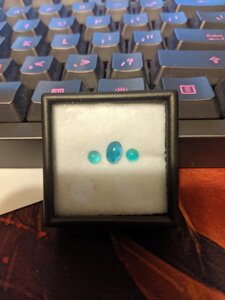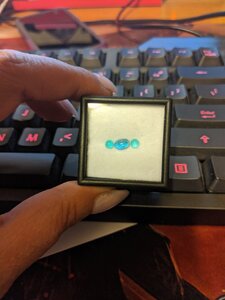 I tried surfing the net a bit for ideas and didn't find much. The closest I came across was this. Again, I was originally thinking of the center stone being E-W. Yvonne thinks it will look better N-S...but again I worry about finger coverage.
The flow of the setting is fine but I would want to modify it to be more of a CRD style and more substantial..no air spaces..solid gold with engraving...maybe a few diamonds sprinkled in. What would that look like? and should the center stone be N-W instead of E-W?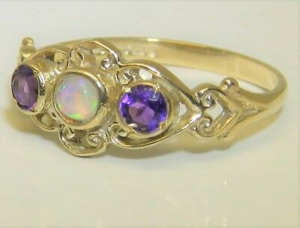 Another thought I had would be something like CRD's Alice ring...but what changes would one make to the style to make it better suited for cabs and what should the top/bottom stones be?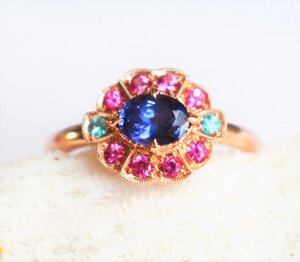 Finally, some ideas Yvonne came up with on her own. At first, I wasn't crazy about it but I have to admit the one on the left is growing on me. Plus she's never disappointed me yet.
The halos would be moonstone cabs...I hesitated that they would be too muted for my (medium beige) skin tone...but I keep circling back to them as well...they would go well with the paraiba blues
Any other suggestions for side stones (whether it's this setting or a different one?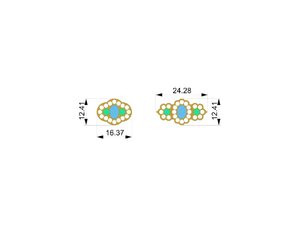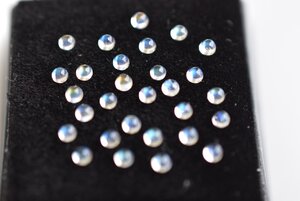 Looking for your thoughts/ideas- refinements on any of the above or something totally different. You guys are so talented on the design side which I am not. Thanks in advance for any input!