I posted about 2 months ago requesting help to find a diamond for an engagement ring. User Gypsy found one for me and I would have been happy to buy it, but things came up in real life that pulled me away for a few days. Next thing I knew, the diamond was gone. I suppose that's a consequence of posting links to a highly praised diamonds to public forums. So I'm back, looking for another diamond.
The specs I've been searching have been:
Round
1.6-1.8ct
Price: < $15000 (preferably closer to $13K)
Cut: Ideal (HCA < 2)
Color: D-H
Clarity: FL-VS1
GIA
Symmetry: ex
Polish: ex
Fluorescence: None-Medium
If anyone can make recommendations, I'd love to hear it. I'm located in NY, so buying from a non-NY reseller is actually more affordable for me. I only know of
Adiamor
and Solomon Brothers. But if the deal is good, I'd be willing to buy it in NY.
I did find another diamond on my own, but I'm not an expert and can't tell how it looks based on
IdealScope
and ASET. Here are the specs:
Round
1.64ct
Cut: Ex
Clarity: IF
Color: G
Fluor: Med
Depth: 62.3
Table: 55
C-Angle: 35
P-Angle: 40.8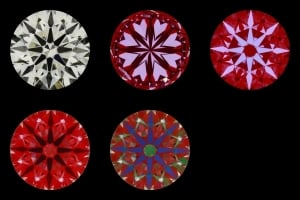 Please let me know.