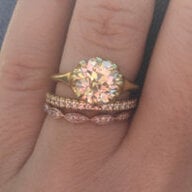 Joined

Mar 20, 2003
Messages

3,376
My parents'' 40th anniversary is coming up, and I''ve suggested helping him pick out some jewelry for her (mwah ha ha ha). He is game, although he did suggest a $1000 budget and then asked if that was too "extravagant."

But then he got on board and upped it to $1500, and finally said to just throw the budget out the window and show him what''s out there (but I wouldn''t want to suggest anything more than maybe $2250).
My mother never received an engagement ring. Then she got a plain yellow gold band, which irritated her finger. Because she never wore it, she eventually lost it. Thanks to my prodding, she finally got a plain platinum band, but I think she only wears it when I''m around.
Now honestly, I know my mom doesn''t really think you should spend a lot on jewelry, so she certainly won''t be disappointed with my dad''s budget. But I want to make sure that I am convincing my dad to get her something that she''d really like, not just something that I''d like. Maybe she''d rather my dad spend $1000 on something else, but knowing my mother, I have a feeling that knowing how much joy it gave me to pick it out for her will be reason enough to be excited about receiving jewelry. And I don''t think she''d ever suggest spending that much on herself for anything else anyway.
So anyway, we''re thinking some kind of necklace or pendant. We can hardly get her to wear a wedding ring, so that''s out, and she doesn''t have pierced ears. She has a really nice neckline but often wears turtlenecks, so it''s either got to be on a longer chain or she''ll need some new tops too.

They live near Philadelphia, and my mom sometimes mentions how she''d like fashionable jewelry like the other ladies in her neighborhood (some of whom resemble Mike Meyers'' Linda Richman, so I''m not quite sure what that means). She''s in her mid 60''s.
Any ideas? Maybe a pendant with a 0.40 point diamond? But I''m thinking something with more shape (as in a circle of life or starburst pendant) and/or color might be what her peers would go for.