Hi All
Looking for a diamond for an engagement ring and having a bit of a challenge with picking a good cut (stone proportions) for a diamond with these settings:
- Budget approximately $6000 inc taxes (can go a bit above if a significantly better diamond is found)
- Lab grown
- Cushion shape (not crushed ice)
- Circa 1.5ct
- Color would be D-F
- Clarity no less than VS1 (knowing that IGI reports tend not to be top notch maybe even towards VVS2).
- For the cut ... It's complicated.
I browsed websites and looked at what they "super ideal" stones were like. It seems that they tend to have a table/depth ratio of approximately 60/67.
I also found this table: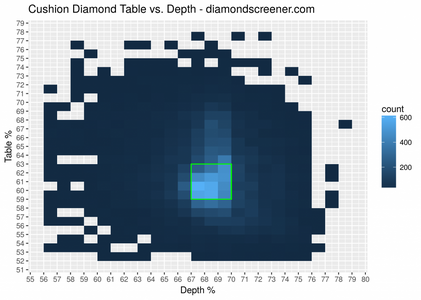 Does this sound about right for a good cushion cut?
With this in mind I found these stones which could be good candidate but would mind your experts' feedback:
1.53ct / "Super Ideal" / E / 62-68.1 (table-depth ratio)
1.51ct / "Super Ideal" / E / 65-67.1 (table-depth ratio). Weirdly more expensive than the others, why?
1.56ct / "Ideal" / D / 59-68.5 (table-depth ratio)
1.51ct / "Ideal" / VVS2 / D / 60-67.8 (table-depth ratio)
Am I on the right track?
Thanks!