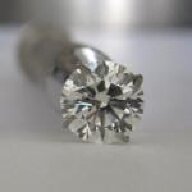 Joined

Sep 14, 2011
Messages

26
Hi everyone,
First time poster here.

My FI and I have decided to upgrade my current engagement ring, and I need a yay or nay on one of the diamonds we're looking at.
Some background: I currently have a G SI1 diamond. I've looked at lower-colored diamonds in the K/L/M range, and prefer them to my G. Clarity wise, the higher the better. My current diamond has a visible black crystal in the middle of the table and it bugs me to no end.
So... my FI and I contacted several jewelers, and we think this K VS2 diamond might work. We were told the inclusion in the middle of the table wouldn't be noticed unless we used a loupe. There is also a tiny feather near the girdle that can be covered over with a prong. What do you guys think?
SPECS
Shape and Style: Round Brilliant
Measurements: 6.30 - 6.34 x 3.89 mm
Carat Weight: 0.952
Total Depth: 61.6%
Table: 55.9%
Culet: Pointed
Polish: Ideal
Symmetry: Ideal
Color Grade: AGS 3.5 (K)
Clarity Grade: AGS 4 (VS2)
Fluorescence: Negligible
Table: 55.9%
Crown Angle: 34.3
Crown Height: 15.0%
Girdle: Faceted, 1.3% to 3.7%
Pavilion Angle: 40.9
Pavilion Depth: 43.2%
Star Length: 50%
Lower Girdle Length: 78%
Total Depth: 61.6%