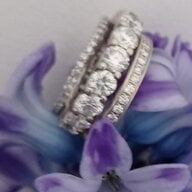 Joined

Jan 9, 2015
Messages

3,421
I broke the chain on my small tiffany's cross (.42 ctw) that I'm wearing everyday. When I was browsing the replacement options I decided to get a short dbty to layer with the cross.

Since I'll be ordering from their website (nowhere near a Tiffany's until return from our holidays beginning of September), I'm not sure about which lengths to get and can't try on the options. My local home boutique would also have to special order some lengths, so that would set me back a lot time wise...

I know many pricescopers have one or both items. Maybe you could help me with this...

Do you have any advice on chain lengths? Should I get a 1 inch difference or 2 inch difference in length between both necklaces?

Which one should be longer? The plain one or the dbty one?
If anyone happens to have neckshots of their items, that would be especially awesome!
Thanks!