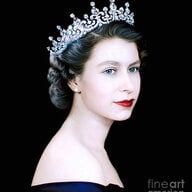 Joined

Oct 24, 2012
Messages

8,227
Hi all,
Some of you may recall that just under 2 years ago I inherited an antique pearl & diamond ring from my Great Aunt, who passed away aged 99. It was ALWAYS my favourite of her lovely treasures, so I was touched that she wanted me to be the new custodian.
The ring was purchased from an antique shop here in the UK on October 12th 1940 by her husband, and being the very particular lady that she was, the ring came to me in the original box with receipts.
I had the ring examined & the pearl is real & whole, measuring 5mm diameter, probably of South China Sea origin. The hallmark was mostly lost in sizing, but it has been estimated that it dates from around 1895 - 1900 & is probably French.
So waffle aside, how durable are natural pearls? My Aunt wore this ring almost daily for 74 years & only ever lost a diamond from the halo. But my jeweller sort of scared me about their care, so it mostly sits in its box when I want it on my hand! If it has lasted harm free for 120 years, then surely I have nothing to worry about? Pearl people - any opinions??