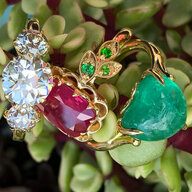 Joined

Oct 19, 2013
Messages

2,801
First of all- YR has lovely peices. I own one. Her stock items are lovely. I felt confident to go custom with her. Unfortunately I asked too much out of her comfort range. I truly feel because of this- none of her sence of style was employed. I don't think she truly had any interest in it. I think of what was said and how it was said was an important factor in my decision to not keep the ring, or re-start from scratch with her. I do know the style I was looking for is not to everyone's tastes- but what I was shown was no where near I requested, nor inspiration peices.
First of all - I purchased this:
10.9x6.84x3.04
I requested a. Silver. Engraving. Black rhodium, I went to black rhodium because she did not want to source black spinel, and black is an important part of what I wanted with this stone.
I sent two inspiration pics:
Black being not on bezel or shank, only design area to offset the stone.
Cad is given in 2 weeks. I should have posted here and asked for help. My fault. I trusted her design sense.
May 16 I was give 6 week delivery time.
June 9 - ring casting is done. Going to engraving. Requested Art Deco-ish/floral. With inspiration pics in mind, I told her to leave specific engraving to them, my fault.
June 30- asked for update. Engraving was done.
July 18 -asked for update. Should be done next week.
I asked black inside engraving or what's not engraved? Answered what is not engraved.
Great!
July 29 posted for sale.