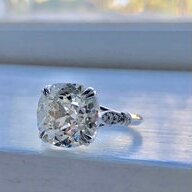 Joined

Apr 1, 2010
Messages

223
Hi PSers!
I've been intrigued with VCA for a couple years and first dipped my toe into the VCA world last year when I purchased the MOP sweet earrings during a trip to Paris. Since then I have had the opportunity to visit 4 stores and one of the most striking qualities of VCA (to me) is the polite friendly helpful but no pressure attitude of the SAs. My local "store" is in a Neiman Marcus and the SAs have been an absolute delight, letting me try on everything I'm remotely interested in, and never being pushy in any way.
Back in May, I took a pendant in to get the chain lengthened, and started scoping out my next acquisition (always good to have a goal in mind right?) Since I had sweet earrings and a vintage Alhambra pendant, I was particularly interested in rings. So during my "research phase", I took a lot of pictures to help me remember everything I tried on.
I finally made a decision and picked up my ring this week. I am thrilled with my ring and am enjoying wearing it wherever I go, even if it's just a walk around the neighborhood! Whereas others are distracted by their phone and games, I am distracted by my bling. VCA is MY Pokemon Go- lol!!

A lovely PSer suggested I start a thread on my newest acquisition so here it is!! Since I have them, I thought I'd share some pictures of other lovely VCA pieces that I saw along the way. Hopefully it might help someone who is interested in this beautiful brand.