Joined

Mar 2, 2020
Messages

9
Hi all,
Pics at the end, but here's recap on me-25th anniversary coming up in Nov, haven't worn any rings for last 1.5yrs due to setting damage, and not wanting to just fix but to upgrade. SIP led me to PS, reading and researching led me to
CBI
stones. I'm the type who likes to see in person, so we decided to take a quick trip to Boise to meet with Wink at
HPD
. I'm sure glad I did, because otherwise I would have had an even harder time choosing a stone. Wink was very patient with me and I was able to see the stones on two different days, so I had time to mull everything over. Bonus points for it coinciding with my birthday and getting to have dinner with Wink and his lovely wife.
I was able to see stones in a variety of colors, from E to J. I had initially thought I would do an H, and wanted at least 2.5ct. However, due to COVID supply chain interruption, that doesn't exist with
CBI
and may not for some time. The two I was drawn to the most were the 3.27 J VS1 and 2.16 F VVS1. I could see the tint in the the J but I had a MUCH harder time deciding against it than I had originally thought. Not because I couldn't see the color, but because it was so dang sparkly and pretty even seeing its color. This is a testament to the quality of the cut that everyone else talks about, but it was quite the thing to see it in real life. I really was amazed at how good the J looked, and with that awesome size, I was very tempted. However, I knew that the color would bother me, and would feel a loss if I traded down in size and up in color if a such a stone ever surfaced. I was able to see an H in a smaller size and looked at it intently to think if this was the color I was mentally holding out for and, it wasn't really. I felt it was better to go with the F 2.16 now, and then maybe if a bigger size in a F/G VS1-2 becomes available, then I could look into an upgrade. I had never thought that I could own an F color diamond, so was I extremely happy to choose it because it's truly lovely! Plus, it is 2.16 larger than what I'm currently wearing, and I do a lot with my hands on a daily basis. God help me if I were to do the 3.27 and DSS sets in! Really though, after not wearing anything the 3.27 was just too big. Maybe later in life I'll feel differently but I'm just not at that point. I lead a pretty casual life and want to be able to wear my ring through most tasks on a daily basis.
Oh yeah, I somehow ended up with these two little .5 ct E stones. Let's just say Wink made me an offer I couldn't refuse! I think I may turn these into earrings or save as sides to one of the birthstone rings I have planned. I could also do a three stone ring, but I'm running a jewelry deficit and so want to spread the love.
Now I've got to settle on a ring design so I can start wearing these beauties!
Okay, on to some pics! Keep in mind that these were with my phone and the sky was quite overcast due to the fires. On the plus side, if these stones can look this good in the worst lighting, then they'll only look better on clear days!
The 0.5E as potential earrings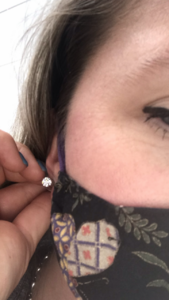 A quick pic in Wink's fancy machine...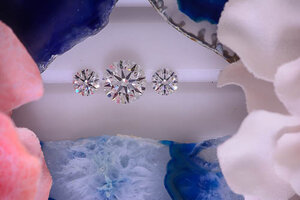 The 2.16 F in a ring holder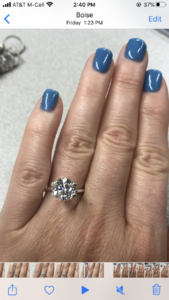 All three together...