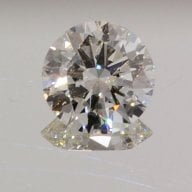 Joined

Jun 23, 2012
Messages

552
I must admit, I call this ring mine for 1.5 years already, however I was lacking the time to make a proper thread on this one.
This stone was a present from my mom for my 35th. I wanted something nice to celebrate this date and the year, which was not quite an easy one. I am a mum of, at that time, two years old daughter, my work required a significant commitment of time and efforts resulting in me having no time at all for myself, my dad passed away just the year before. All this gave me a feeling that I would be very grateful to receive a reward of some kind. Being a pricescoper, I decided that diamond makes an excellent reward.
I was looking through the stones and one stone caught my eye. It was unbelievably low priced, but was GIA XXX and had a HCA 1.9.
I asked Wink to call in the stone and evaluate it for me. Wink called in the stone and was surprised how nice the stone was. As usual Wink was a perfect gentleman and most professional diamond dealer. He made the purchase very easy and quick with incredible turnaround time. The whole process was always very transparent and made me comfortable purchasing the stone unseen.
Well, now to the stone - it was a winner! On paper it sounded not attractive - a K, I1 (those specs explained the low price), but the stone was totally eye-clean at any distance, faced perfectly white next to a F coloured melee of the setting and had perfect Hearts and Arrows. Tick!
Then I went looking at the settings. I wanted something that would have nice presence, but that I would be comfortable wearing daily. The diamond is 0.6 ct, so it needed some oomph. Originally I wanted to have a three stone ring, but I felt it would be too small for a three stone.
Ritani
three stone halo setting was my solution - this way I could get both and still have exactly the impact I wanted - not too dainty, not too large.
Now to the photos