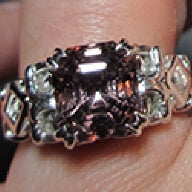 Joined

May 1, 2011
Messages

248
Quick little story...
As I was looking for
THE
perfect spinel for my ering project, I was speaking to Jerry from Gemart Services who I was referred to by the lovely TL. We were talking about color and such and he mentioned that he had some Rose de France on hand that seemed to fit the description of the color I liked. Cutting quartz in an asscher pattern is not ideal, or the norm from what I gathered because of "light leaking" in the stone. (Jerry explained it way better. lol)
Anyway, he cut it and I loved it, but he wasn't happy with it. I guess this brought a challenge to him to get a successful asscher pattern in a quartz stone, so he went for it again with a modification and man did it turn out gorgeous!! I got an email from him today and he was able to get my stone cut earlier than I thought and sent me some pictures of both my spinel and the quartz.
My spinel is 8.7 x 7.8 and 3.4 carats
Quartz- 9x9 and 3.83 carats
I'm still so wow'd by the photos it's hard to imagine holding this stone for real! (and yes, I'll likely get both, just because!) He is amazing.
(Thanks again, TL!!)


Dunno if I can post all the pics in one go, there are a few!