Joined

May 30, 2011
Messages

11
My boyfriend had me pick out a setting for my e-ring. We have been together almost 5 years, and he decided it was time to put a ring on it I guess haha! But he wanted to make sure he got a ring I loved so he let me pick one out. I chose a Natalie K setting. I have no idea what my center stone will be...well except that it's a diamond and princess cut. I won't get to see the finished product until he proposes. So, I get to wait like a little kid waiting for Santa to come on Christmas hehe!! Just wanted to share my pics of the setting I do have...and drool over everyday bahhaha! The pictures are from my bf's cell phone so they aren't too great. I haven't seen the setting in person...just pictures and a similar one in person. I'm so excited eeeeeeek! It's nice to still have some element of surprise even though I picked out the setting.
P.S.
UGH I hate that the price tag is showing in the pics...I think that's tacky, but I'm too lazy to edit it out haha! I would like to say my setting did not cost as much because this is just the sample in 18 ct WG, but we had mine made in 14ct WG which saved a bunch of $$$!

It's amazing the price difference between the 2! I've always worn 14ct WG so I saw no need to pay extra when I'm perfectly happy with 14ct.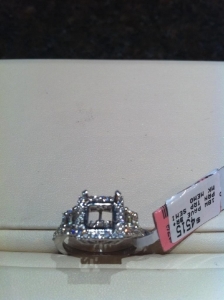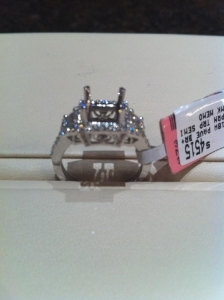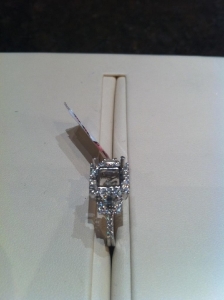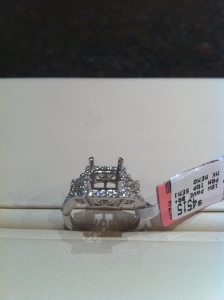 Here's a stock photo of the ring....