I can't even begin to tell you how many rings I have drooled over on these forums. Well, I'm ecstatic to say that I was proposed to by the man of my dreams this past Wednesday!
About the ring.....
After looking at about 100 diamond center stone rings and liking some, but not feeling a very strong connection I decided to look at blue sapphires. It was then that I realized exactly what I had been looking for! I was not allowed to "pick out" my ring, but after trying on a tray full of beautiful rings at my family jeweler's store I kept going back to this one particular setting. At the time it had a yellow sapphire as the center stone. I kept thinking, "If only it were blue!" Guess what?????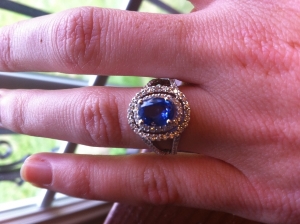 I'm seriously in love with it and of course with him! While watching the Royal Wedding this morning I think I was staring at it as much as the TV!