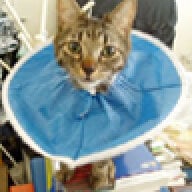 Joined

Feb 15, 2007
Messages

13,166
For now, at least . . .
I bought a 14K rose gold twist band from KyleAnneMetals on etsy to go with my new upgrade.
Here's the listing I purchased:
http://www.etsy.com/listing/59101990/pink-gold-twist-14k-band
I was inspired by AlloAmie's beautiful rose gold twist e-ring and set:
https://www.pricescope.com/community/threads/my-new-set-does-this-look-ok.115349/
The rose gold on the band is a bit pinker than my 18K upgrade setting, which I expected, but it doesn't bother me at all. The band is super delicate and I love the way it looks with my new upgrade. (A gajillion more pictures of my upgrade ring can be found here:
https://www.pricescope.com/communit...y-2-30-ct-omb-antique-cushion-upgrade.158760/
)
I have to say I am now a true convert to rose gold. You can see I have a pasty complexion, and it looks so much better on my hand than the platinum of my original set. There's also something a bit romantic about the rose gold color, I have to say.
As always, I took a million mediocre pictures of my new ring to make up for the fact that I am hopeless at taking quality photos of my jewelry. I tried to take video of the rings, but I can't figure out how to set the camera to macro mode for video, so it just turned out to be a moving blur with flashes of fire coming out of it.
Brace yourself for my usual photo overload