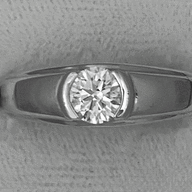 Joined

Aug 13, 2013
Messages

639
I joined Pricescope in 2013 when I was ready to replace my lost 5 stone wedding band. I spent months reading about how to buy the best diamond and I was convinced I was a very smart buyer. I purchased an AGS000
JA
True Hearts .64 I VVS1 with CA 35 and PA 41, and had it set in a Boone tension setting as was the trend at the time. Thanks
@kenny
and
@Dancing Fire
!
It really was a remarkable diamond in the right lighting! More fiery than any I had ever seen but still...in many lighting situations it would look dark in the center while the outer crown facets were bright. I grew to hate that over the years and while my diamond brought me a lot of pleasure I knew I had somehow missed the mark. In addition, the arrows never displayed all at once. This was a big disappointment to me as I love seeing that display of symmetry and it was the reason I purchased a H and A stone.
Alas disappointment is part of life. I moved on to more important matters like raising two special needs boys, etc.. I've continued to log on to Pricescope as a diversion and enjoyable pastime often times in the middle of a sleepless night. Parenting/ marriage is no small opportunity for growth and the beauty of marking the passing years with jewelry gifts is particularly meaningful to me as it was to my mother and grandmother.
My spouse and I have been together 21 years this month and I've decided it's time to upgrade my stone in color and cut quality with a new
CBI
.61 G VS2! Yes, I lost $1,600 selling my original stone on the wholesale market but I swallowed hard and said lesson learned. I'm a very visual person and I know it will be worth it for me to see the difference in color, cut and light performance. Now with the upgrade policy I can even look forward to one or two size upgrades over the coming years until I can hit the coveted ( for me) 1 ct mark.
Many of you have touched my life over the years with your willingness to share your knowledge and the kindness you've shown through your comments to others and myself and I'm glad to join you sometimes in responding to new buyers on Rocky Talk in an effort to help them make a better first choice than me.
@Wink
and
@John Pollard
have stood out to me over the years and while I will never be their biggest customer I may be one of their most appreciative. Their warmth and generosity of spirit here on Pricescope is palpable and memorable.
Thanks for reading my Pricescope story. Here's a picture of my original diamond at it's best at the beach where, not surprisingly, I'm at my best. Once my new ring arrives I'll post it on SMTB.