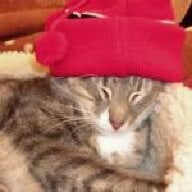 Joined

Aug 14, 2009
Messages

26,654
He had epilepsy.

He was on drugs for it, but during his checkups they found no underlying issues. He started seizing suddenly around 5am yesterday and didn't stop - he didn't even make it to the emergency clinic. I just found out.

He was six, we got him from an overcrowded rescue at 5 wks.

My parents are heartbroken. I'm - I don't know. Sad, guilty for all the times I didn't just get up and play with him, and all the photos I should've taken. Baffled, because he was our only pet with chronic issues, but in all my nightmares of losing one of our three cats I never once dreamt of losing him so soon. Angry, because mutts are supposed to be healthier...

Well, at least I can still take comfort in knowing that my parents spoilt him rotten after I moved away - he had the best life with them that any dog could've asked for.

I... just don't know. Every part of me is hoping that he wasn't scared or hurting on his way out, and that he knew that his family was there.