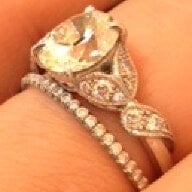 Joined

Feb 17, 2007
Messages

14,167
They are here! A huge THANK YOU to Ali and Andrey for my pricescope gift which went towards funding these gorgeous sparklies. And of course a big thank you to all my fellow posters here-without you I wouldn't have been able to rack up 10,000 posts and thus wouldn't have these beautiful earrings!
Before I get to the good stuff, I just wanted to assure everyone who has worried about
WF
recently with Brian leaving that the
ACA
stones are here to stay and are as fabulous as ever. Mine just arrived freshly cut from Belgium a week or two ago and they are absolutely stunning. I worked with Traci A. who of course was fabulous as always. She kept me up to date on every step my diamonds took before I got them and was always lightning fast with responses to my questions. In addition she let Debi (CEO) know about the birth of my twins, and Debi herself sent me an email congratulations which I thought was very sweet. It's obvious that this is a company that does care about their customers very much.
So ultimately I can still highly recommend both the stones and customer service at
Whiteflash
-they were amazing. I would not hesitate to buy anything from them in the future (and I am sure I won't!)
Now what you really want to know, they are about .83 tcw,
ACA
stones, J VS2 and J SI1 in platinum W-prong settings. They are absolutely stunning-just gorgeous fireballs and quite a bit bigger looking than I expected! My husband thought I was wearing fakes when I got them because he thought they would be much smaller. And as everyone says these J
ACA
stones are really something, I can't see any yellow anywhere even when held up next to my G cushion e-ring stone.
I love the W-prong settings too. They are amazingly delicate and like the martini settings, you can barely tell there are prongs there. VERY VERY well made. But what is nice about them is that although they snug into the ear well, they don't stretch out the hole like my pair of martini set earrings do. So they would be great for people with bigger holes or those worried about the martinis sinking too much.
As many of you know I have two infant twin boys at home so the pictures will have to come in shifts, but I wanted to get the thread up and get the thank you's out to everyone before too much time went by!
Without further adieu… .83 tcw ACAs, platinum w-prong settings, J VS2 and J SI1-more pictures will follow ASAP!