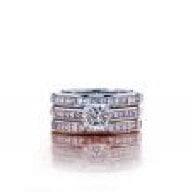 Joined

Nov 23, 2008
Messages

1,445
OK everyone. Here it is! My very first colored stone purchase! A pink asscher spinel from Dan Stair. 1.07 carats and 5.14 mm

I am really NO good at taking pics of stones. I'm almost embarassed to post these. The color is great. It's pinkish inside and outside it does get some red to it, but that didn't come across in the photos. It's a bit darker in fluorescent lighting. I see a teeny teeny tiny very small tint of brown I think. People at work don't really see that. It's really a flattering color in the fluorescent lighting. I like it a lot! I just wish I could do it justice in the pics.

Now I NEED your help!! I need a setting. White gold. Maybe some diamonds. Was thinking tapered baguettes? Not sure. TL suggested a halo in my previous thread. But I don't know if the stone is big enough. It might be dwarfed by a halo. I should have done a hand shot. Will have to do that one later as I'm at work.