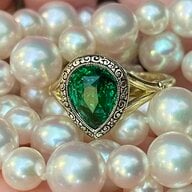 Joined

Mar 2, 2009
Messages

12,822
So the company is in the penthouse of a building near 5th avenue, and it''s really cozy since it''s a very small space, more like a large apartment than a floor of a building. It reminded me of a little pink Victorian house, everything was painted in a soft pink and yellow. I took some pics of the decor.
Anyways, after presenting ID and a short wait, I was buzzed in and met with Livia, who was very nice and helpful. Unfortunately, one of the pads I had scheduled to see had been sold last night and the other one was missing! It turns out, Steven had sold the other one 6 months ago and forgot to update the web site (by the way, Steven doesn''t seem to be working there anymore). So neither of the pads I was hoping to see were there!
But all was not lost. Livia showed me some pads in different colors, and even a box with rows and rows of lovely finished sapphire rings so I could get a good idea of different sizes, colors, and mountings. That box was amazing, it had every color of sapphire and in the most lovely settings! It was quite a selection. I realized immediately that pads really do look obviously different than pink sapphires, even a newbie like me could obviously pick them out, lol. They really are special and lovely! After getting an idea of my color and budget, Livia showed me at least 15 stones and rings that she thought might work.
Anyways, I saw a pad that was set in a ring that had the lovely soft peachy pink I was looking for, and livia said that they could remove it from the setting and I could buy the stone loose if I liked. It''s a little smaller than I was hoping, but the color is lovely!
Despite the fact that I didn''t get to see any of the pads I had been hoping to, I had a great time seeing all those pads and other sapphires in person and learning about them! All in all I spent an hour there, and it went by so fast! Also, livia said that purple is not a pad color, for the record.