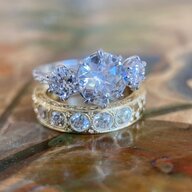 Joined

Jun 23, 2010
Messages

183
Hi all,
I've been lurking for a while and recently just started posting. A coworker of mine who had just gotten married in May mentioned that she had purchased her 5 stone ring from
Whiteflash
. So I innocently browsed through their wares and eventually found the Bellerina setting, which I instantly fell in love with. I tried so hard to fight it, but I knew I was getting the urge to splurge... After days and days of combing through the info on PS and the
WF
diamond selection, going back and forth between several size and setting combinations, I finally chose a .617 ct
ACA
diamond and platinum Bellerina customized to dangle on a bale. Here are the stats:
Carat: 0.617
Color: F
Clarity: SI1 (couple of small crystals only)
Cut: Ideal
Certificate: AGS
Depth %: 61.9
Table %: 55.0
Crown Angle: 34.2
Star: 55.0
Pavilion Angle: 40.8
Crown %: 15.2
Lower Girdle %: 77.0
Measurements: 5.43x5.46x3.38
Culet: Pointed
Fluorescence: Negligible
Girdle: Thin to Slightly Thick Faceted
I worked with Liza and Vera, both of whom have been wonderful and answered my barrage of questions during the torturous two weeks of anticipation. The package will not arrive until tomorrow, but here are shots of the final product that I received from
WF
this afternoon! I really could not stop smiling when I saw these pictures in my Inbox

Will update tomorrow with neckshots once I can get to a camera!