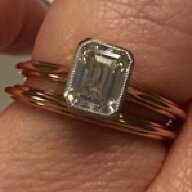 Joined

Jan 25, 2008
Messages

452
Hello All~
For the past few months, I've been going back and forth about what to do with my ring. I love the setting, and I love the stone. I just don't love them together. I have long felt the setting detracted from my center stone.
First, I was going to upgrade my stone to a larger emerald cut; however, my jeweler changed his upgrade policy. He will still honor the 100% purchase price towards an upgraded stone, but if I want to continue the upgrade policy in the future, I can only get a round stone. He no longer offers a trade in for fancy cut stones. So, in order to keep an emerald cut, I'd have to upgrade significantly in size. Alas, that wasn't in the budget.
After deciding to keep my stone, I've been on the hunt for the perfect setting. I have saved so many images of ring settings -- modern, antique, simple, and complex, but nothing really resonated with me until Niel posted a bezel set asscher solitaire on someone else's thread. I knew when I saw that ring that I had found my setting.
Within a couple of days, I inquired with Vram about the Iris solitaire, received a quote, and mailed my ring to him.
I cannot say enough wonderful things about pathetic customer service with VRAM. Angela responded quickly and patiently to all of my questions and worries. Seriously, they have some of the best customer service out there. Amazing.
Here are a couple of pictures of my "before" setting and the "inspiration" setting--