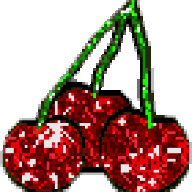 Joined

Jun 28, 2006
Messages

1,320
It's a Bellerina!!!
First I want to say thanks again to Irina and Belle for creating and sharing their design for all of us to enjoy.

I wanted one of these since I first saw yours Belle and am so happy you were kind enough to share.
Second a big kudos to Whiteflash for doing an amazing job making this pendant. I am very pleased with their customer service. My emails and calls were always answered quickly, and I even had a chance to talk with Brian for quite a while one night. I had some concerns about the original images I got and was able to talk it over with Brian, go over the images and make the necessary adjustments to have a perfect pendant. I very much enjoy doing business with Whiteflash and plan to continue to do so in the future.
*cough* earring upgrade *cough*


I know there have been alot of threads lately about quality control issues at Whiteflash and I just wanted to say that I have been completely satisfied every time I have used them. Now I am not saying that they are perfect or never made any mistakes with something I had made but what counts to me is that in the end they resolved my issue quickly and pleasantly and I got a beautiful piece of jewelery. The end result and the fact they are willing to fix any problem I might have no matter how big or small is truly what is important to me. OK sorry I just needed to say that....
Without further adieu..
The stone:
1.12 J SI2 Expert Selection (eye clean)
GIA
6.69-6.71X4.09
D 61.1
T 57.3
CA 34.6-35
Crown % 14.9
PA 40.7-40.9
Pavillion % 43.1
culet 0.3 pointed
girdle thin-med
star 54
LGF 75% (based on GIA rounded measurements)
Light performance 0
Polish EX
Sym EX
Fluor neg
HCA 1.5 XXXV