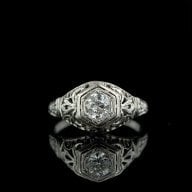 Joined

Apr 6, 2006
Messages

5,667
I got my Leon Megé!! Just to update everyone, I bought this 1.29 asscher from
WF
in the spring and couldn't decide what to do with it although I knew I loved pavé. After seeing all the Bay Area Bling (at least one Leon Megé setting) I got inspired enough to give Leon a call. I found him very nice to talk to, we went over my ideas, he made suggestions, and then I waited for my surprise package. It did not have to come via Brinks truck like Widget's!!
So here it is. It is probably the smallest Leon Megé I've ever seen since most of his work is with 2 ct and larger stones. I spent quite a bit of my budget on the setting but for me it's as important at the stone. And I can't say enough about the near-perfect pavé. It's like a miniature work of art. I love it!!
I have to get some hand shots taken by a friend who has a good macro lens. But these are the photos they sent me.