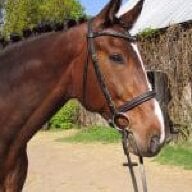 Joined

Nov 22, 2014
Messages

332
I hope this post can be of some assistance to people considering a K color cushion and/or people considering I1 clarity. I also want to ask you for guidance on how to set my new lovely.
I bought an inexpensive GIA 0.63 ct K color I1 cushion (this:
http://www.jamesallen.com/loose-diamonds/cushion-cut/0.64-carat-k-color-i1-clarity-sku-793282
) for fun. I wanted a different look to my AGS 000 H&A 0.556 J VVS2 MRB, which I wear as my e-ring on my left hand. I think the cushion has a nice spread at 5.16 * 5.07 mm.
Thanks for
James Allen
for a superb service and assistance!
The gemologist at
James Allen
ensured me the feathers won't be a durability concern (and, if worst comes to worst, I have it covered by our home insurance). I have done some faceting of gemstones myself, I believe that if a stone is going to break, it will do so during faceting.
Sure, there are nicer diamonds out there, but considering I only paid 610 USD and some taxes on it, I don't think I could have done much better. I would say the diamond faces up white and pretty much eye clean. I can see the feathers if I really really try and go looking for them. Just by looking at it normally, I don't see anything (and I have an excellent eye sight).
Regarding the color and clarity: I asked my little sister if she can find anything wrong with the stone. She said nothing regarding the color, and was able to locate some inclusions only looking if from the side (she could not pinpoint any inclusions in the face up position).
Ok, so here are some pics
with my J, some completely colorless ("D") CZ and some yellow gemstones for comparison purposes (sorry I don't own any D diamonds or fancy yellow diamonds).