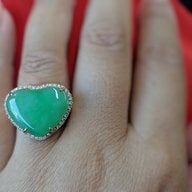 Joined

May 17, 2014
Messages

5,775
I found white pearls very useful but wasn't quite happy with the tone of the ones I bought previously. They ran a little yellow to my eyes.
So I bought these which were even bigger!!!!! I'm absolutely in love with them! I've realized that size is everything for me when it comes to pearls! I really don't like small things so again I can't escape from Edisons which are the only large pearls that are affordable.
These are 13-15. Just the way I like them!