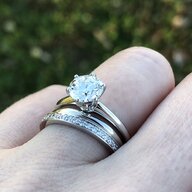 Joined

Apr 25, 2019
Messages

123
Hi everybody, I don't often post but I read on PS quite a bit, I love to learn and dream along with you all! With all the crazy things going on in the world my "jewelry forum" as my husband calls it is my little safe haven/escape. Only the people here can appreciate how something so small can really lift my spirits. IRL friends & even DH can't understand.
I got this eternity right before Thanksgiving to celebrate a wedding anniversary. It is .40 ctw of ACA F/G VS melee. It is 2.2 mm wide and 2 mm tall off the finger. My finger size is 4.75, but I got a size 5.25 in hopes that it will fit for many years to come.
(Sidenote: I got a channel set baguette band from Whiteflash a couple months ago, but I ordered in my regular finger size of 4.75 and when I stack it it is too tight. So I usually wear that one by itself. I need to do a thread on that one, my life was crazy busy when that one came in). Learn from me - consider going up a half size if you will be stacking!
I hope that my pictures will help someone else who is eternity shopping. For perspective my solitaire is a 1.22 ACA I SI1 in the Vatche U113 setting and my plain band is 2mm wide. All are white gold. I will try to post many angles so other people can get an idea of height differences and how the rings fit and look together. Others' pictures have been very helpful for me.
I also want to say that this is now my 3rd purchase from Whiteflash and I continue to be beyond pleased with their customer service - Liza and Mrs. Vera are so kind, patient, and professional! I don't ever have to worry when I deal with Whiteflash. (I'm not affiliated with them in any way, just a very satisfied customer )
My poor iPad is struggling to upload photos Will need to break up into multiple posts, sorry!
.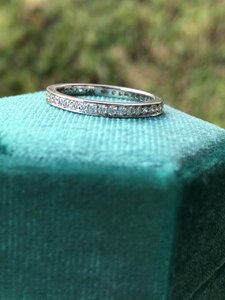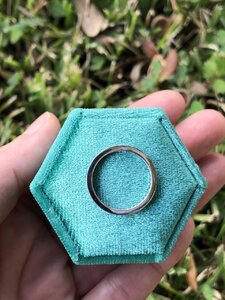 Last edited: