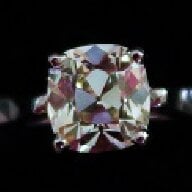 Joined

Dec 6, 2006
Messages

1,630
When my parents got engaged my father asked my mother if she wanted a ring or a pair of ice skates and she thought (being the practical woman she was) she would get more use out of the ice skates then a ring. Imagine!
They got married with plain yellow gold bands and my mother never missed not having an engagement ring. As she neared her 40th birthday (I was 13 at the time), my mother started thinking she'd like a nice right hand ring (she had no other jewellery other than her wedding band) and went to the jewellery store and feel in love with this sapphire and diamond ring. She never thought that my father would get it for her because it was an expensive purchase for them but she did tell me about the ring and I then told my father and he went out and got it for her and surprised her with it on her 40th Birthday. I'll never forget the look on her face and the pride my father took in presenting it to her. My mother still wears this ring on a regular basis and it's still the only ring (other than wb) she has. It still looks beautiful on her as she has nice, long, lean fingers. This ring, I believe, is what started my love affair with diamonds. Growing up, I would watch it sparkle in all lighting imaginable and it mesmerizes me still today. She asked my to clean her ring today and I decided to take a few pictures to show my PS friends this timeless classic.
Diamond (single cut) and sapphire ring
size 5 (I can only fit it on my pinky - I'm a size 6-6.5)
Yellow gold band
Bought in 1983
Thanks for letting me share.

Cachette