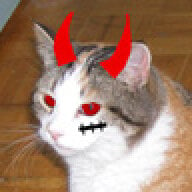 Joined

Nov 19, 2004
Messages

3,450
Hey everyone!
Well as many of you know, me, my brother, and sister, have been working on a anniversary present for my mother. We had a budget, and then threw the budget out the WINDOW! I think I should stop making budgets for diamonds. I have no will power.
She sold her wedding set to get our family to Canada during the Vietnam war. So 25 years later, she is a high powered, successful business woman....who still has no bling (a travesty!

). In any case, my mother NEVER spends on herself. She worries about everything from her yet to be
unborn grand-children''s
financial welfare, to whether or not she should send me to Italy so I can unwind this summer....and she is a difficult, demanding yet loving, supportive woman, who has spoiled us rotten, and pushed us through the hardest moments of our lives.
When we gave her the present, she cried and cried, and cried. Incidentally....this is was
BEFORE
I told her it was real diamonds....she was just speechless

She didn''t want me to post pictures on this site because she said it was so SMALL compared to all the boulders on this site. But I explained that the members on PS appreciate all types of bling whether big OR small

Thanks to John Quixote, who is ever watchful and always ready to step in if there is any sort of hitch (however minor) and for Renee Brinlee, diamond consultant extraordinaire, who was endlessly enthusiastic for this project. And so patient when I actually spelt MY OWN name wrong for the order confirmation. Emails back and forth, and here it is! And of course the Belle and all other members on PS that helped along the road.
So diamond:
Item Code: AGS-7340505
Report: AGS
Shape: Round Ideal Cut
Carat: 0.723
Color: I
Clarity: VS2
Depth: 61.3
Table: 55.4
Crown Angle: 34.8
Crown %: 15.5
Pavilion Angle: 40.7
Pavilion %: 42.9
Girdle: Thin to Medium Faceted
Polish: Excellent
Symmetry: Excellent
Culet: Pointed
Fluorescence: Negligible
Measurements: 5.78-5.81X3.55
Setting:
Custom made, white gold (by
Whiteflash
)
2, 0.25
ACA
sidestones
and 14 0.03
ACA
melee
Ring size 3.75...although it spins a lot because my mom has larger knuckles then lower down. I''m estimating her ring size is actually 3.25...