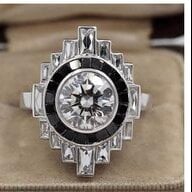 Joined

Jun 19, 2010
Messages

3,560
I am loving my new Mali from Dana. I'd never bought from him before, but he's so damned sweet, and I got a "surprise gift" of two spinels with my purchase. Too generous.
Anywho - I'm the new lucky owner of this stone:
http://www.mastercutgems.com/preview.php?cat=284&id=6140
and something as gorgeous as this stone needs to be worn, so I've already bought this setting to put it in:
http://cgi.ebay.com/ws/eBayISAPI.dll?ViewItem&item=170659405161&ssPageName=ADME:X:RTQ:US:1123
I took some pics with my iPhone which seems to pick up the best colors, but it's still far from showing it's beauty. Dana actually got the little rainbows of colors in his pic pretty well (kudos to him), but I'll show you mine too, just for fun.