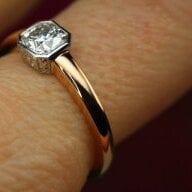 Joined

May 1, 2007
Messages

3,328
Hubby wanted to gift me 'something tourmaline' this Christmas. It's my birthstone and apparently I'd commented that he had never bought me anything tourmaline.
I searched around online and made a couple of trips to jewelers. One in particular had quite a selection of loose tourmalines. There were some nice ones, but when she pulled this one I lit up and looked at DH with wide eyes. I went back a second time, and it was still the one.
I had a tight budget for the setting, but I found one from Stuller with graduating side diamonds that I liked (for which ID gave me a great price). And I have always loved the simple six-prong solitaire by OWD that DS posts often, which Adam also put within budget. I would have loved rose gold, but this tourmaline looked best with white metals. I was set to go with the OWD solitaire, but before committing I stopped into a local estate jeweler. Lo and behold, he had a platinum and baguette setting that fit my tourmaline perfectly - I have always wanted a baguette setting and my tourm looked great in it! The price was right, so I went for it.
This tourmaline gives flashes of purple every now and then, and shows mauve, salmon, or bright purple-pink depending upon the lighting. Sometimes it's very flashy, and other times just deep color. It's very well cut too; I feel fortunate to have found it.