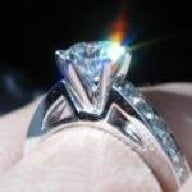 Joined

Mar 16, 2006
Messages

1,733
Back in May of last year, I had to put down my sweet old Morgan gelding Taz at age 27 due to sudden colic. (
https://www.pricescope.com/community/threads/horse-ill-today-still-worried.45204/
) He was an amazing horse and friend and I still miss him daily. Before he was laid to rest I snipped off his mane and tail, intending to have some jewelry made out of it eventually.
Well, around late October, I finally was able to bring myself to part with it and I sent his beautiful tail to a woman named Kim in North Carolina. I had spotted her website (
www.twistedtails.com
) and had bookmarked it because her work looked amazing. A fellow teacher used her at my suggestion for an anniversary present for his wife, and his bracelet turned out really well, so I felt safe in sending her the last little parts of what I had left of my Taz.
My bracelets just arrived today, and I am so very pleased. I hadn't expected them until tomorrow due to MLK Day, so this was a welcome and very special surprise. The jewelry and the leftover hair was sent back to me, neatly packaged and boxed up. I ordered three and will DEFINITELY order more in the future, as there is a lot of hair left and I love how these turned out. The bracelet with the horseshoe end caps and beads is mine and is 7.5" long. It fits perfectly, though it's a little tough to put on solo. The other two bracelets with the barrel end caps are gifts. One is for my mother (birthday gift) and the other is for Taz's former owner Anne. Taz was Anne's very first Morgan horse and after he sparked her interest in the breed, she went on to become a successful Morgan horse breeder (
www.ancanmorgans.com
). In an amazing coincidence, she had a litle colt born on her farm on the exact morning that Taz was put down humanely. The colt is named Ancan Razmatazz in his honor.
Here are some photos of the bracelets. The craftsmanship is remarkable and each one is about 1/4" wide. All the braids are in the "half-round" style. The findings and beads are all sterling silver, chosen to contrast with Taz's rich dark chestnut hair.


Leftover hair, three fairly thick bunches. I'd love to have more bracelets or even a necklace made one day.



A favorite picture of me and the handsome guy, taken in '96 just before we won our first blue ribbon together.



Thanks for letting me share!