Howdy all, long time lurker.
My boyfriend and I have been engaged for almost three months now (yay!). He proposed with my grandmother's engagement ring so it is really meaningful. They were married for almost 70 years before she passed away, so that is a good precedent!
We have the wedding band too, and they match. We think that my grandfather bought these in the 1940s or 50s. The engagement ring has an illusion setting and I LOVE it. Perfect size for me and so so so shiny.
The band, however, has me confused. There is this strange hole underneath the top "plate" or whatever this thing is. To me it looks like there was a stone here that fell out and was covered up. Even stranger, there is an arrow on the inside of the ring pointing perpendicular to the band, like it is indicating which side should go "up?"
Does anybody have any idea what this might be? It doesn't seem like it is centered, so I'm wondering if I should fill it in with gold, or if that is possible. Any advice or insight you can provide is SO appreciated.
(I love this set. I try to get information from my 95 year old grandfather and he doesn't remember a thing about it haha).
Thanks all!
Molly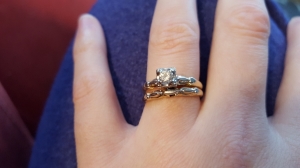 Inside the engagement ring: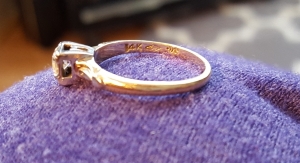 Inside the wedding band: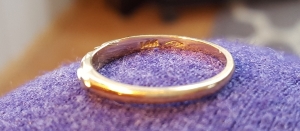 The "arrow" thing (hard to see, sorry) :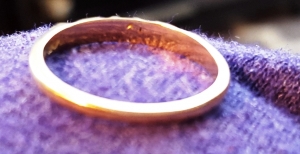 The "notch":