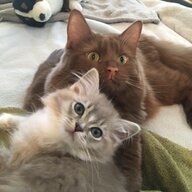 Joined

Jul 12, 2015
Messages

910
It is an absolute honor to share my latest addition, which came to me courtesy of
@mrs-b
, who has been an inspiration to me for as long as I have been on PS!
I have admired
@Mrs
-b's 7-stone forever… I admire her whole collection, of course, but from the first time I laid eyes on this ring something about it just reached out and stirred my heart. I adore classic pieces like this one, and the proportions of the stones she selected are so visually compelling. It is a timeless design that can hold its own throughout the ages, and let me tell you, this ring is a thing of beauty!!
This stunning masterpiece was designed by
@mrs-b
and brought to life by David Klass. She features seven carefully selected diamonds, all E color, ranging from .17 to .48 carats (~2.2ctw). When she arrived, I was utterly speechless, as she is even more glorious in real life than in photos! The graceful ring design, those flawless inset prongs, the tastefully graduated stones, and their icy whiteness which takes my breath away... she is utterly perfect in every way!

And as gorgeous as this ring is, it is so much more than that. The aesthetic aspects of a piece are central elements, naturally, but my most beloved pieces are infused with symbolism and sentimentality that make each one more meaningful. My enjoyment of diamonds is enhanced by the reminder that they represent the timeless, unwavering beauty of the earth, of creation. And although I have never before had a 7-stone, the number 7 has been a very special number to me throughout my life. I was born on the 7th, and I love the parallels with the 7 continents, the 7 wonders of the world, the 7 days of the week, and the significance of 7 in spirituality. So when I learned that
@mrs-b
was preparing to part with this ring, it truly felt like serendipity!
But most of all, this ring means so much to me because of the incredible person from whom it comes, the one who so thoughtfully and painstakingly created her. When I slip this ring on my finger I can actually *feel* the love that
@mrs-b
poured into her creation, and this beautiful band epitomizes her abundant grace, class, courage, and ebullient zest for life! I feel as though this ring has many stories to tell… now if only she could magically impart some of
@Mrs
-b's profound wisdom then I would truly be set for life! But in all honesty, I could not be more honored or overjoyed to welcome this gorgeous piece into the fold. She has completed her maiden voyage, and I can safely say that she is home.
My photos truly don't do this ring justice, and we have dreary weather today, but I will try to take a few more once the sun makes its return. In the meantime, here are a few that I took over the weekend! (Note that you can only really see five of the seven stones in my photos as the end stones tuck neatly around my finger, but I adore having them there and sometimes they peek out to say hello if the ring spins slightly!) And please disregard my hands, which are currently a bit rough and puffier than usual due to my recent indulgence in a variety of home improvement projects! (And to add insult to injury, I managed to bend my thumbnail back and had to trim it down to the quick, so my apologies for that visual as well!) Long story short, I am planning to give my hands some serious TLC for a week and then take more photos. This ring deserves nothing less!
There are no words to adequately convey how fortunate I feel or how much I adore this ring!

You have my eternal gratitude for making this dream a reality,
@mrs-b
. She is perfection realized, and I shall think of you fondly every time I wear this exquisite 7-stone masterpiece!